Experience Strategy
Experience Strategy is best accomplished by aligning your organizational values with your customer's pains, goals, and needs. What's your strategy - your organizational structure and behaviors - what systems support each of these?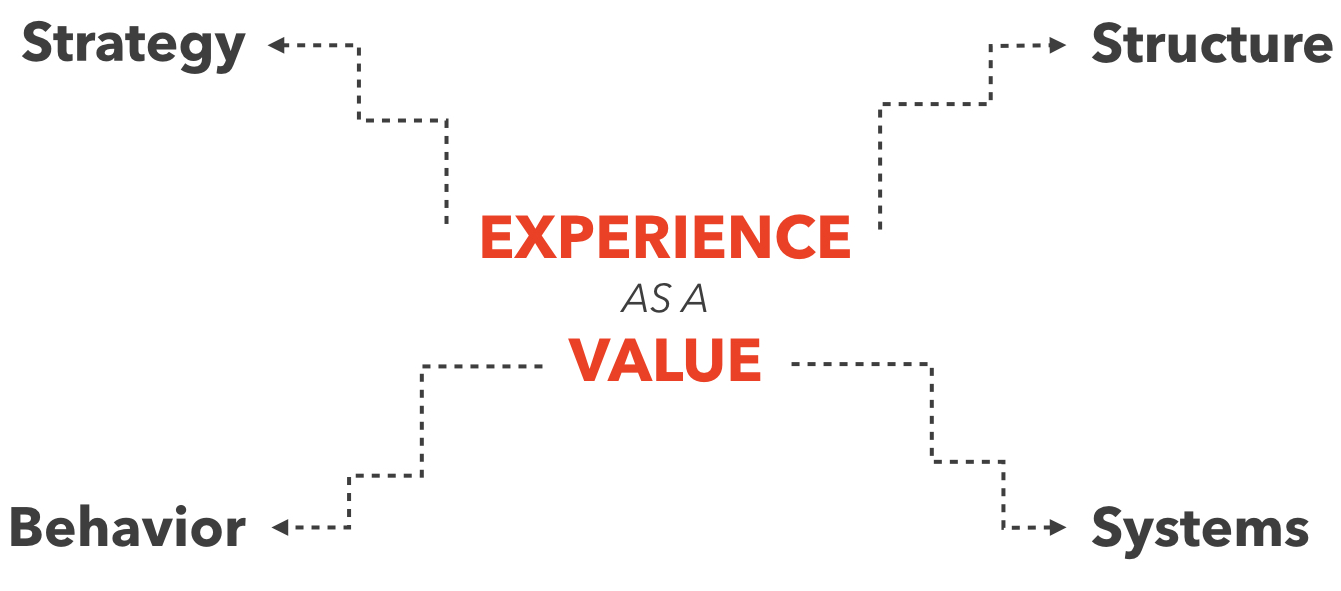 Elevating Experience as an Organizational Value
This is holistic & cross-functional - part of your organizational DNA. We can elevate experience as a core organizational value that drives the decisions we make and actions we take. This requires a strategic shift, a structural shift, a behavioral shift, and a systems shift to align the organization around this new core value.
Strategy
Demonstrating Experience as a Value can be significant shift — yet absolutely achievable. Leadership integrates an "experience focus" into the strategic plans and develops specific prioritized goals. Often the people, system and process changes required take significant time and investment.
Structure
Structure is often a great indicator of Experience. Poor structure presents barriers to Experience. Experience-focused structures facilitate the communication necessary to support transparency and collaboration across the functional areas which contribute to Experience.
Behavior
Peter Drucker famously said "Cutlure eats strategy for breakfast." Organizational Behaviors are a direct result of Culture. Shifting Behaviors to value Experience means ongoing conversations, strong role-modeling from leadership and internal experience-first experts distributed across the organization.
Systems
Think of systems in two ways: in one way it's is all about redesigning our internal systems — our processes; in another way it's leveraging those improved processes to redesign our products and services to be more experience-focused. This means being more iterative, adaptive and inclusive with our process.